Stephanie Kirkham - Vocal Skills pupil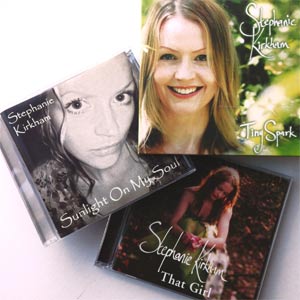 Before meeting Andy I'd written lots of songs but not done much performing. I'd been fortunate enough to sign a record deal on the strength of a capella demos but I think that was more about my song-writing than my singing ability (I had a very quiet voice) Anyway the album 'That Girl' was released and then another 'Sunlight On My Soul' and that's when I met Andy.
Having a quiet voice but wanting to go out and sing my songs live, I knew I needed expert advice to not only get more volume but also to protect my voice in order to sustain my performance ability.
Before I met Andy I used humming as a warm up and I sang well enough to record my songs but I knew I needed help if I were to be able to sing more frequently and to improve my skills.
Andy taught me about the workings of the vocal cords (folds) and throat, the muscles and the way we make sound and how small changes can make a huge difference in not only volume but quality.
He showed me techniques to strengthen what I was already doing and also showed me areas I did not know existed, providing me with not only a wider range but also the ability to hold notes longer and more powerfully.
The new songs I began to write were a bit stronger and I wanted to go out and sing to an audience but I knew I needed a bit more strength vocally and also a bit more courage. Andy helped me feel I could do it and I felt like I had someone on my side. I became more aware of what I was doing while I sang. The exercises were great and my voice improved.
Psychology plays a huge part too and Andy helped me with grounding and centering myself and I became more confident. He has a calm, gentle nature and I felt comfortable and at ease and I can't recommend him enough.
I have moved to Cornwall now, so unfortunately too far away to continue my lessons with Andy. I'm happy to say the guidance and teachings passed on to me from him, continue to help me to improve, sustain and take care of my voice. When my third album 'Tiny Spark' was released, I played some small gigs and a radio tour. I'm now working on my fourth album.
Whether you're a singer, performer, actor or speaker – it's essential to get the best out of your voice and to know how to properly take care of it. If you have the opportunity to work with Andy Follin I recommend you take advantage, as the information learned now can serve you for a lifetime. Best wishes on your musical journey!
Stephanie Kirkham
Stephanie Kirkham Youtube
Stephanie Kirkham Facebook
Stephanie Kirkham website