Vocal Skills - Contact Details
NB Andy teaches at various times of the day, so is often unable to answer calls. For the quickest response, send him an email. He'll get back to you as soon as he's available.
Email
Mobile (text)
07702 825908
Current Hours during Covid
Monday: 1000 to 1900 Tuesday: 1000 to 1900 Wednesday: 1000 to 1800 Thursday: 1000 to 1430 Friday: Closed Saturday: Closed Sunday: Closed
Address
Vocal Skills
Alexandra Business Park
Prescot Road
St Helens
Merseyside
WA10 3TP
Location Map
Lakeside Studio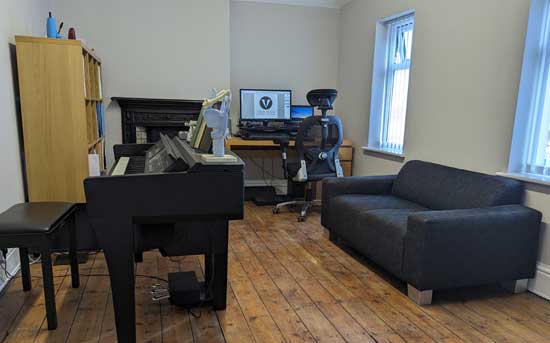 Professional vocal coaching from a modern, custom-built studio that is totally soundproofed and fully equipped.
Overlooking the landscaped gardens and fountains, the studio is light, airy and spacious.